Meetings don't end when everyone leaves the room. Effective follow-up is the glue that transforms isolated meetings into an engine driving execution. Without proper follow-up, discussions lack impact, decisions are forgotten, and commitments fall through the cracks. In fact, according to Harvard Business Review, 71% of meeting follow-up items go uncompleted.
This ultimate guide covers everything you need to know about meeting follow-up best practices. You'll learn how to craft recap emails, track action items, tailor follow-up for different meeting types, solicit feedback, and refine your process over time. Consistent, high-quality follow-up will lead to increased engagement, clarity, and results. It's the difference between your meetings feeling like empty complain-fests versus tightly run drivers of productivity.
Best Practices for Following Up After Meetings
Following up after a meeting seems simple, but doing it effectively takes thought and discipline. Establishing some best practices will help ensure your follow-ups are timely, thorough, and provide value.
Here are 6 recommended best practices for meeting follow-up:
Send a Recap Email Within 24 Hours
Ideally, you should send a follow-up email within 24 hours of your meeting. This timeframe strikes the right balance between capturing details when they're still fresh but not waiting too long.
According to Atlassian, employees retain 70% of a meeting's details for up to 24 hours. Beyond that, retention drops sharply. At the 48-hour mark, less than 20% remains.
Sending your follow-up email promptly not only takes advantage of fresh memories but also maintains momentum coming off the energy of the meeting itself.
Of course, 24 hours isn't always realistic. The key is to send the recap as soon as possible. If it takes a few days due to conflicting priorities, make sure to acknowledge the delay in your email before recapping the details.
Thank Attendees for Their Time
Take a moment to thank everyone for attending the meeting. This may seem small, but showing this bit of gratitude provides some key benefits:
It reinforces organizational culture and relationships.
It reminds attendees their time is valued.
It boosts engagement, making them more enthusiastic about future meetings.
Especially for internal team meetings, an expression of thanks helps cultivate community and trust. For external meetings, it demonstrates professionalism and respect.
According to leadership expert Marlene Chism, failing to thank attendees may leave them feeling "their time wasn't important enough to warrant thanks."
Summarize Key Discussion Points and Decisions
Don't assume everyone shares the same recall of the meeting's details. Dedicating a section to summarize the main discussion points and decisions provides clarity.
This overview also serves as a helpful reminder for attendees who might mix up the current meeting with others as time passes.
To ensure accuracy, have someone fact check your meeting summary, especially if decisions carry financial or legal ramifications.
Wherever consensus wasn't reached on a topic, note the remaining open questions or issues. Don't let lack of agreement quietly die without follow-up.
Outline Action Items and Owners
Coming out of most meetings, certain attendees will be on the hook to complete tasks going forward. The follow-up email provides a convenient place to clearly assign and document responsibilities.
For each action item, include:
Task description
Owner
Due date
Where it makes sense, include any relevant background or guidance to help owners execute on their assignments.
Having action items prominently outlined in a follow-up email, as opposed to scattered meeting notes, focuses accountability. According to the Harvard Business Review, this practice increases successful task completion by 24%.
Share Relevant Meeting Materials
Often meetings will involve reviewing documents, data, or presentations. Don't lose momentum by waiting to share these artifacts. Include them as attachments to your follow-up for reference.
This also prevents attendees from coming back later saying they can't remember the specifics covered in some slide or report.
For meetings by Webex](https://www.webex.com/features/follow-up.html), [Zoom, or other platforms with recordings, you can share the video link for those who want to rewatch portions.
Give people access to the information when it's still top of mind. They can reference it as needed while executing next steps.
Solicit Feedback on the Meeting
Each follow-up email provides an opportunity to collect feedback and suggestions for improving future meetings.
You can include a simple open-ended question, poll, or rating scale. For example:
On a scale of 1 to 5, how valuable was this meeting?
What worked well about this meeting?
What can we do better next time?
Soliciting candid input demonstrates you're committed to continuous improvement. It also makes attendees feel heard.
According to leadership coach Liane Davey, consistently requesting feedback increases meeting scores by 30% over 2 months.
Other Tips for Following Up after Meetings
Here are a few other tips to amplify the impact of your post-meeting follow-up:
Use bullets and sections – Break up dense blocks of text for better scannability.
Clarify next steps – Conclude by highlighting what comes next and when you'll connect again.
Limit recipients – Only include those who truly need to know.
Specify replies – If action items require responses, request they reply to the thread.
Note absentees – Bring absent stakeholders up to speed.
Follow-up personally – Connect one-on-one if specific outcomes require it.
Track tasks – Enter action items into your project management system.
Automate reminders – Calendarize deadlines for notifications.
Following up purposefully transforms a meeting from a fleeting event into an integral part of a project's cadence. By doing follow-up promptly, thoroughly, and consistently, teams extract full value from their precious meeting time.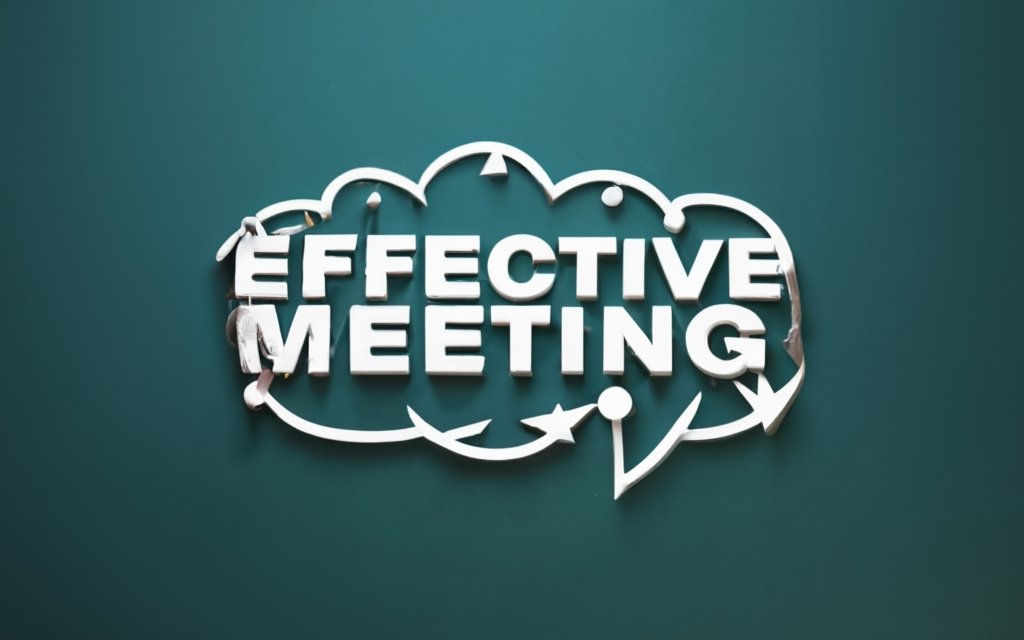 Following Up via Email vs. In-Person
Email works well for routine meeting follow-up, but some situations call for additional in-person meetings. Understanding when to use each method ensures issues get the appropriate amount of time and attention.
When to Choose Email Follow-Up
Email serves as an easy, low-friction way to complete basic meeting hygiene. Use email follow-up when:
Recapping was the primary purpose – If rehashing what was discussed and ensuring everyone is on the same page about next steps are the main goals, an email usually suffices.
Logistics dictate email – If the team is distributed across geographies and time zones, email allows asynchronous communication.
Meeting was low complexity – For a simple 30-minute sync-up, email recap is appropriate.
Topics were conceptual – If the focus was brainstorming ideas or gathering input, email captures everything sufficiently.
Sensitive details weren't shared – Any highly confidential topics warrant more secure in-person follow-up.
No decisions require high-touch resolution – If conclusions landed cleanly within the meeting itself, email serves to cement shared understanding.
Action items are straightforward – Simple, well-defined tasks can be assigned and tracked via email.
When to Schedule Additional In-Person Meetings
However, in certain circumstances, critical issues demand more dialogue and facetime:
Strategic decisions require alignment – If big-picture direction needs buy-in across stakeholders, additional meetings can prove worthwhile.
Complex problems lack solutions – Tricky topics with multi-dimensional concerns often benefit from working sessions.
Sensitive matters require discretion – Confidential decisions deserve discreet in-person exchanges rather than email threads.
Misunderstandings brewed during meeting – Reading the room is easier when live. Follow-up meetings can resolve latent disagreements.
Body language clues indicated issues – In-person observations exposing unspoken friction justify dedicated dialog.
Lack of engagement suggests problems – Perceptive leaders will pick up on subtle disengagement and dig deeper in smaller groups.
Incomplete participation limits full picture – Absent perspectives might necessitate supplemental meetings to fill knowledge gaps.
Radio silence to assigned actions – Unresponsive team members may need focused attention to uncover and resolve bottlenecks.
Email Templates for Different Follow-up Scenarios
While in-person meetings provide more color when needed, email often remains the right channel for meeting follow-up.
Having email templates ready to go for different scenarios ensures you can efficiently cover all the follow-up basics.
Internal Team Meeting
Thank team for attending yesterday's meeting. Below is a recap of what we discussed and next steps:
Key Discussion Points
Decisions Reached
Action Items and Owners
Please let me know if you have any other questions!
External Sales Meeting
[Name],
Thank you for meeting with us yesterday to discuss [purpose]. Below I've summarized some of the key details we covered:
Based on our conversation, here are the next steps from our side:
We're excited to work with you on this project. Please let me know if you need anything additional from our end. Looking forward to connecting again soon!
Best,
[Your name]
Networking Event
[Name],
It was great chatting with you at [event] last night. I really enjoyed learning more about your work at [company] – it sounds like you've had amazing experiences there!
Please pass along my contact information to anyone on your team who might be interested in connecting. I'd love to continue the conversation about potential collaboration opportunities between our companies. Perhaps we could setup a short phone call next week?
In the meantime, let me know if you have any other questions! I look forward to staying in touch.
Best,
[Your name]
Interview
Hi [Interviewer],
Thank you again for taking the time to interview me yesterday for the [position] role at [company]. It was great learning more about the team and the opportunity.
I'm very interested in the role and believe my skills and experience would make me a great addition to [team/company]. Please let me know if I can provide any other information to help with your hiring decision. I look forward to hearing from you!
Best,
[Your name]
Having templates like these on hand, tailored to different meeting types, accelerates your follow-up process so critical touchpoints don't fall through the cracks.
The combination of email efficiency and in-person collaboration, when required, ensures you conduct meeting follow-up in a comprehensive yet agile manner.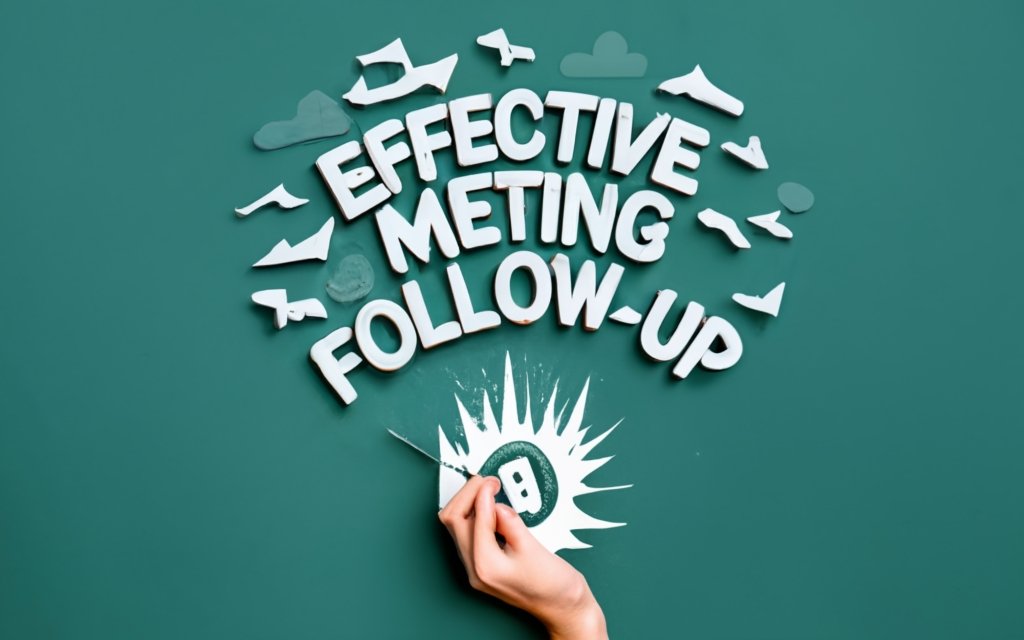 Following Up After Different Meeting Types
While the basics remain the same, nuances of meeting follow-up change based on the type of meeting.
What you focus on for an internal sync-up will differ from following up an important sales meeting. Tuning your approach for each scenario leads to more meaningful follow-up.
Here are tips for following up various common meeting types:
Internal Team Meetings
For recurring team meetings, follow-up fosters continuity between each touchpoint.
Aim to:
Recap discussions and decisions
Outline action items and owners
Share notes and meeting artifacts
Set expectations leading up to next meeting
Example follow-up email:
Hi Team,
Thanks for joining today's check-in. Below I've recapped our key discussion points and next steps.
Main topics covered:
Reviewed July analytics report
Discussed implications of new industry research
Brainstormed ideas for upcoming campaign
Key decisions:
Use influencer outreach for campaign
Increase budget by 10% based on ROI data
Action items:
Tom: Finalize influencer list by EOD Thursday
Mary: Send budget approval request to Cheryl
All: Submit creative ideas before next meeting
Please find attached the deck we reviewed. Our next team meeting is scheduled for Wednesday at 1pm. Come prepared to dive into campaign planning and creative discussions. Let me know if you have any other questions before then!
External Sales/Client Meetings
Follow-up after sales meetings advances opportunities through the pipeline.
Aim to:
Thank them for their time
Recap next steps agreed upon
Share any requested information
Schedule next meeting
Example follow-up email:
Hi [Client Name],
I wanted to thank you for meeting with us earlier today to discuss potential partnerships between [Company X] and [Company Y]. It was incredibly valuable to learn more about your strategic goals for next year.
As we discussed, here are the next steps from my side:
Send over proposed contract by end of week
Coordinate logistics for product demo on your site
Introduce you to our Client Success team for onboarding planning
Please pass along any other information you need from me at this stage. I'm excited at the prospect of working together and look forward to further conversations. Let me know when you have availability next week to connect again.
Thanks again for your time today!
Best,
[Your name]
Networking Events
Follow up these chance encounters by connecting on LinkedIn and suggesting future meetings.
Aim to:
Thank them for the enjoyable conversation
Suggest linking up on LinkedIn
Express interest in meeting again
Example follow-up email:
Hi [Name],
It was great chatting with you last night at [Event]! I really enjoyed learning about your experiences working for [Company X] – it sounds like an amazing place to work.
I just sent you a LinkedIn connection request so we can stay in touch. Hopefully we'll run into each other at a future networking event. But in the meantime, let me know if you'd be interested in grabbing coffee to continue the conversation.
I'd love to hear more about any [industry] trends you're observing and how your marketing strategies are evolving. Please feel free to pass along my contact info to any of your colleagues as well.
Again, it was wonderful meeting you! I hope we have the chance to connect again soon.
Best,
[Your name]
Interviews
Follow up these crucial meetings by thanking interviewers and reaffirming your interest.
Aim to:
Thank them for their time
Express enthusiasm for the role
Provide any requested additional info
Inquire about timeline expectations
Example follow-up email:
Hi [Interviewer],
Thank you for taking the time to speak with me yesterday about the [position] role. It was great to learn more about [Company X]'s culture and values.
The opportunity seems like an excellent fit given my background in [relevant experience]. I'm excited by the prospect of contributing my skills and expertise to help [objective]. Please let me know if you need any additional information to support my application.
Again, thank you for your time. I look forward to hearing an update on the hiring timeline whenever you have a chance. Have a great rest of your week!
Sincerely,
[Your name]
Conferences
Leverage these structured events to build your network and secure future meetings.
Aim to:
Personalize each follow-up
Connect on LinkedIn
Suggest meeting when back in hometown
Example follow-up email:
Hi [Name],
It was so nice to meet you at the [Conference] last week! I really enjoyed our conversation about [insightful topics]. You have such interesting perspectives on the industry.
I just sent you a connection request on LinkedIn so we can continue the dialogue. Hopefully our paths will cross again at [Conference] next year!
In the meantime, if you're ever in the [City] area, I'd love to grab coffee and catch up. Let me know if you plan to visit anytime. If I'm ever in [Other City], I'll be sure to reach out as well.
Wishing you the best!
[Your name]
Following Up with Existing Contacts
Follow-up serves an equally important function in reinforcing and strengthening existing business relationships.
With partners, vendors, clients, board members, or colleagues you work with routinely, follow-up provides continuity between touchpoints.
Aim to:
Build rapport and trust
Sustain alignment on shared goals
Identify ways to provide additional value
Example follow-up email:
[Name],
As always, I thoroughly enjoyed our conversation earlier today. Thank you for taking time to meet with us.
I'm looking forward to [next milestone] – please keep me updated on your end, and let me know if there's anything else we can do to help out. My team will remain focused on delivering [results] as we discussed.
Hope you enjoy the rest of your week! Looking forward to connecting again soon.
Best,
[Your name]
In summary, to become a master at meeting follow-up:
Know your purpose going into each different meeting type
Tailor your follow-up strategy and templates accordingly
Add the personal touch needed to nurture relationships
With practice, you'll hone the follow-up skills needed to excel across all your business relationships and interactions.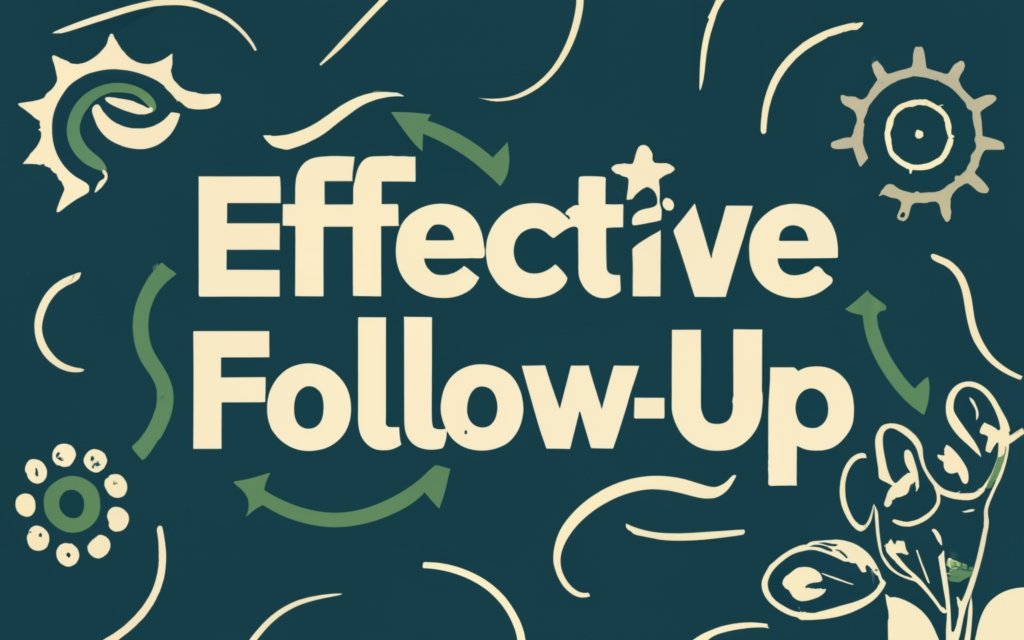 Tracking Follow-Up and Action Items
The most brilliantly run meeting lacks impact without consistent follow-through on actions. Tracking follow-up tasks provides accountability and ensures commitments don't slip.
Tools and Systems for Tracking Tasks
Thankfully, we're no longer confined to scribbling notes on legal pads and crossing our fingers. A multitude of helpful tools facilitate tracking the constant flow of follow-up items.
Shared Task Managers
Robust platforms like Asana, Trello, and Wrike allow real-time task management and collaboration. They provide various views to prioritize and monitor progress.
Note-Taking Apps
Dedicated note apps like Evernote and OneNote sync meeting notes across devices. They allow tagging tasks with owners, status, due dates, and reminders.
Email Follow-Ups
Even a simple email thread, with tasks added via bullet points, provides a centralized reference. The email timeline records progress.
Calendar Reminders
Calendar apps allow setting reminders tied to specific tasks and action items discussed in meetings. They provide notifications when deadlines approach.
Team Communication Software
Chat tools like Slack have features to create action items connected to conversations. This allows fluid, transparent task management.
Meeting Minutes Apps
Minutes apps like Fellow and Minutes.io auto-generate meeting notes, highlights, and action items. Their templates streamline capturing follow-ups.
Project Management Platforms
Robust PM systems like Jira and LiquidPlanner tightly integrate task management with workflows. They provide advanced tracking and automation.
Customer Relationship Management
CRM platforms centralize information on customers and external meetings. Activity tracking ensures systematic follow-up.
The optimal tracking approach depends on a company's existing tech stack and processes. Often piecing together solutions across tools works better than any single system. The key is picking tools that will be used consistently.
Best Practices for Accountability
While the right software helps, real accountability stems from discipline in business practice.
Define Clear Owners
Every action item should have a single, unambiguous owner. "Team task" and "TBD" are recipes for miscoordination.
Communicate Expectations
Provide context around assigned tasks, explain priorities, offer guidance, and agree on milestones. Remove roadblocks proactively.
Establish Deadlines
Open-ended tasks drag on indefinitely. Dates drive focus. Balance ambition with realism when assigning due dates.
Automate Reminders
Don't rely on memory. Calendar invites, email reminders, and task app notifications prevent tasks from slipping through cracks.
Regularly Review Status
Don't wait till milestones pass unmet. Quick weekly syncs on task status identify issues early when still recoverable.
Highlight Completions
Recognize those who deliver on assignments. Public praise motivates. Progress brings energy.
Evaluate Reasons for Delays
If something falls behind schedule, understand why through 1-on-1 conversations. Remove barriers and adjust timelines or expectations accordingly.
Establish Consequences
While punishment rarely helps, agreed-upon consequences, like reporting delays to a manager, add accountability.
Audit Processes Periodically
Step back to review whether you're tracking tasks optimally. Look for opportunities to refine systems and processes.
Of Atlassian survey respondents reporting the highest meeting productivity, 74% have a clear system for tracking follow-ups. That's no coincidence.
Disciplined tracking and accountability transforms meetings from talk-shops into drivers of execution.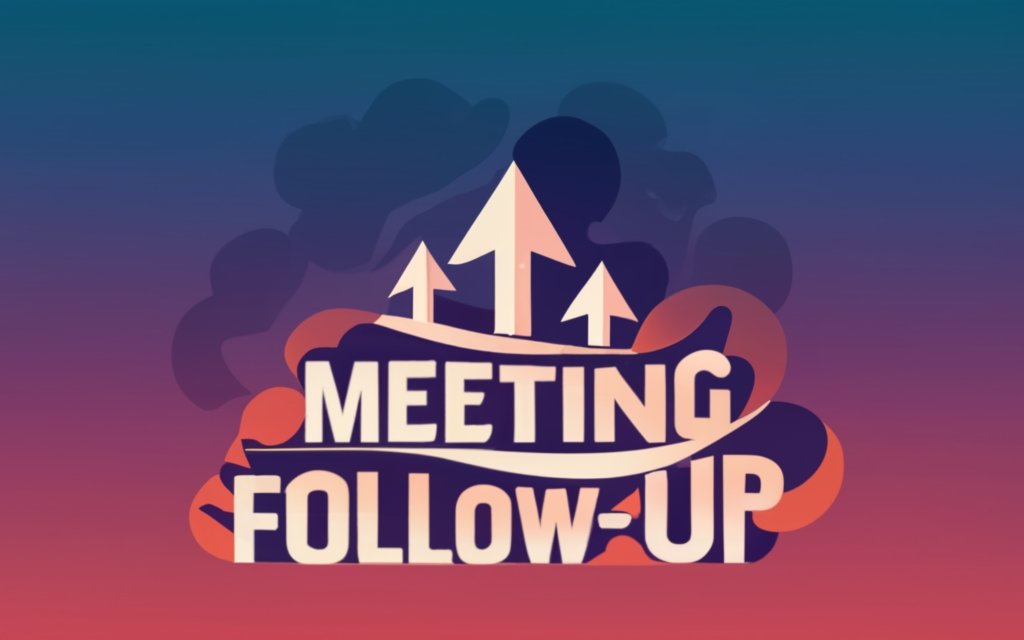 Measuring Effectiveness of Follow-Up
Simply doing follow-up isn't enough. To extract maximum value from meetings, you need to assess whether your follow-up efforts are achieving the desired impact.
Here are some ways to gauge the effectiveness of your meeting follow-ups.
Metrics to Track
Start by tracking some key quantifiable metrics:
Email Open Rates
This reveals if your meeting recap emails are being read. Benchmark against industry averages for email open rates.
Click-Throughs on Links/Attachments
Click-through rates help gauge genuine interest and engagement with your follow-up content.
Reply Rates
Does your follow-up prompt responses and start productive discussions? High reply rates indicate good engagement.
Task Completion Rates
This critical metric shows whether assigned action items actually get done as a result of your diligent follow-up.
Milestone Achievement
Beyond individual tasks, track how well your meetings and follow-up efforts contribute toward moving projects forward.
Survey Responses
Response rates to your meeting feedback surveys reflect attendee willingness to provide input on improving your follow-up process.
Sales Conversion
For business development follow-ups, pipeline growth and deal flows indicate you're creating value through meetings.
Relationship Growth
Expanding your connections and network through meeting outreach reveals follow-up effectiveness in building relationships.
Solicit Qualitative Feedback
Quantitative metrics only reveal part of the story. You need qualitative insights to fully understand the impact of your follow-up efforts.
Ask Attendees Directly
Pose open-ended questions in your recap emails or team surveys to solicit feedback:
How effective was our recent meeting follow-up?
What can we improve about our meeting recap process?
Do you find the follow-up valuable? Why or why not?
Interview Stakeholders
Conduct periodic interviews with meeting attendees and team leaders to probe their perspective on how your follow-ups could improve.
Review Anonymized Comments
Send an anonymous feedback form annually. Review unfiltered, honest opinions for opportunities to optimize follow-up.
Assess Team Member Sentiments
Have 1-on-1s exploring how supported individual contributors feel by the meeting follow-up process.
Gauge Progress on Business Goals
Ultimately, for recurring team meetings, the best barometer of effective follow-up is your progress on business goals.
Project Milestones Hit
Follow-up effectiveness shows in your team's ability to systematically execute projects and hit milestones.
For sales teams, follow-up should contribute directly to winning deals and growing revenue.
Customer Loyalty
Customer-facing teams with disciplined follow-up enjoy higher retention and satisfaction.
Product Adoption
Marketing generates more conversions and activations when meeting follow-ups align across the funnel.
Rankings Improved
SEO and social media teams track rankings and engagement metrics to tie back to campaign follow-up.
Error Rates/Complaints Reduced
Service teams lower incidents and improve experiences through meeting follow-up problem-solving.
Of course, many factors impact these business metrics beyond just meeting follow-up. But over time, you should see positive correlation between improved follow-up practices and moving core metric needles.
Continuously Improve Follow-Up
Like any process, you must continually fine-tune meeting follow-up effectiveness.
Leverage Performance Data
Let quant metrics reveal weak points. Qualitative insights uncover why. Use these inputs to guide ongoing enhancements.
Adapt Follow-Up Cadence
Tune the follow-up sequence and frequency for each meeting and relationship type to optimize touchpoints.
Refine Tools
When metrics plateau, reevaluate tools. Switch up platforms if current solutions are no longer cutting it.
Update Templates
If open/reply rates dip, refresh your email templates and content format to reengage attendees.
Revisit Workflows
As needs change, alter processes. Administrative barriers to follow-up create drag.
Coach for Improvement
Provide training resources to help team members maximize follow-up skills, both individually and collectively.
Effective follow-up is never "done" as a one-time initiative. Like your meetings themselves, it requires continual refinement, adaptation, and improvement to drive results. By diligently tracking and assessing follow-up, you'll keep progressing as a team.
Key Takeaways
Following up after meetings is a crucial practice that transforms your meetings from isolated events into engines of execution.
To become effective at meeting follow-up:
Make it a consistent habit after every meeting. Follow up promptly via email or additional in-person meetings as needed.
Craft recap emails that thank attendees, summarize discussions and decisions, outline action items, and share meeting materials.
Tailor your approach based on meeting type, whether it's an internal sync-up or external sales meeting.
Logically organize action items and track them diligently via shared task management systems. Maintain accountability through reminders, status checks, and consequences.
Measure quantitative metrics around completion rates as well as qualitative feedback on the impact of your follow-ups.
Continuously refine tools, templates, cadence, and training to improve over time.
Consistent, high-quality meeting follow-up leads to increased engagement, clarity, and results from your meeting efforts. It provides the glue between meetings that maintains forward momentum.
By making meeting follow-up a strategic capability, you'll get far more value from the time your team invests in being together. Follow-up is the difference between your meetings feeling like unproductive complains sessions versus tightly run engines of productivity.
Here are some suggested frequently asked questions for the article:
Frequently Asked Questions
Q: How soon after a meeting should follow-up happen?
A: Best practice is to send a follow-up email within 24 hours. This balances capturing details when fresh while maintaining momentum. If more time passes, acknowledge the delay, then proceed with the recap.
Q: Should every meeting have a follow-up sent?
A: Yes, follow-up should occur after every meeting, even if just a quick email for small meetings. The consistency helps drive execution. Scale the depth of follow-up to meeting importance.
Q: What medium is best for following up aside from email?
A: Scheduling additional in-person meetings works when discussions warrant more dialogue. Chat apps facilitate rapid conversations to refine understanding. Task managers centralize tracking.
Q: How can I encourage people to actually complete their assigned tasks?
A: Clear owners, deadlines, reminders, and consequences help. But intrinsic motivation through recognition, development opportunities, and meaning also enables follow-through.
Q: What metrics best reveal follow-up effectiveness?
A: Quantitative metrics around open rates, completion rates, and business goal progress. But also qualitative feedback on engagement, clarity, and impact.
Q: How can I improve my skills at meeting follow-up?
A: Seek feedback to understand weaknesses. Observe those who do it well. Refine your templates and cadence through trial-and-error. And invest in personal organization tools.
Q: Is following up more art or science?
A: It requires some art like relationship-building and creative messaging. But applying science around consistency, tracking, and metrics leads to mastery.